Graduate Services
Academic Acceptance - Diploma Recognition.
Bircham International University - Graduation Documents.
Diploma Recognition
Bircham International University offers several graduate services in order to enhance the benefits that you may obtain from your education and degree, and facilitate the BIU diploma recognition.

Do ask about your diploma recognition goals, and we will be happy to advice the best way to proceed.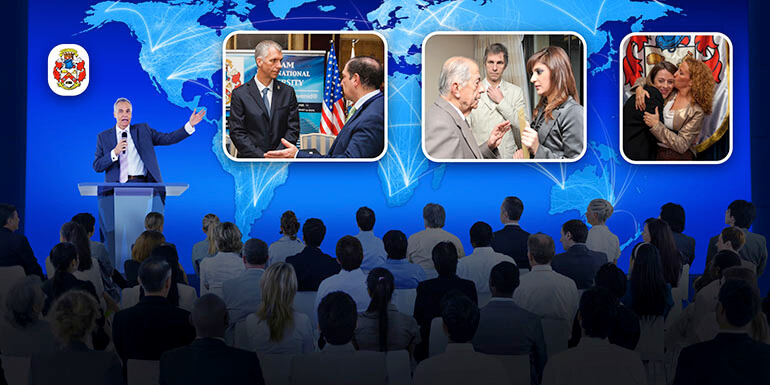 Congratulations!
A degree involves a great deal of responsibility, both for the graduate and for those around. Learning does not come to the end the day you receive a diploma. It is a life-long, enriching process. The main objective behind the assignments completed is to provide a sound foundation to continue building knowledge. Our aim is to provide a broader awareness of the different aspects of the specialization, to encourage continuos learning, and to inspire.

Completing a distance learning degree program should not mean an end; it should be the beginning of a new and exciting stage in life. More info...
Diploma Recognition
Today, many people with all sort of degrees want to work in a different countries and professional sectors. It is important to provide options for a better diploma recognition, because not all educational institutions share exactly the same academic curriculum, and companies may require some verification about the legitimacy of the degree.

Bircham International University is simultaneously registered in the USA (Delaware) and the European Union (Spain). Consequently, all BIU distance learning degrees can be issued and legalized in these countries. More info...
Internet References
The Bircham International University network provides a free and automatic online web listing of our students and graduates. These lists may be used as a quick and easy reference for any employer, company or organization wishing to verify a BIU student or graduate over the internet. If you do not wish to be included in this online reference, or if your name does not appear in the list while it should, do contact the BIU offices.

Bircham International University publishes an online electronic library listing the titles of the academic research works, and publications, produced by our graduates. Additionally, an electronic PDF copy of these research work is permanently stored at the BIU archive.

The copyright of these research work always belong to the author. BIU can not supply any copy of a research without the written permission of the author. Contact us if you are interested in any of these works. Your request will be forwarded to the author, who will then decide how to address your demand. More info...
Academic Acceptance
It is exceptional that any company or receiving institution will accept a distance learning degree by merely showing the paper diploma and other documents. How can anyone make sure that those papers were not made up? For this reason, companies and organizations all over request different means to make sure about the validity of the degrees presented to them.

Bircham International University offers several validation options from independent third party organizations as well as the standard international legalization procedures, but such options do have a costs and may take some time. Consequently BIU also provides a free web listing for the verification of any student or graduate's good standing status at BIU. This web reference is often enough for many receiving institutions.

Some American institutions may be reluctant to accept transfer credits from a "non-formal" (distance learning) university which is not accredited by a US CHEA recognized body. In some cases, partial transfer credits are accepted. Note that accreditation (including US CHEA) does not automatically provide, nor guarantee, acceptance of any distance learning degree with other educational institutions or hiring employers.

No educational institution can guarantee the acceptance of their degrees. Acceptance of higher education degrees is always entirely at the discretion of each receiving institution or employer. It also differs depending on their own policy, and the country where they are based. More info...
Degree Legalization
Bircham International University distance learning degrees can be internationally legalized with The Hague Apostille (for Hague signatory countries) or Embassy Legalization (for Hague non-signatory countries).
Degree legalization may be required by some institutions as a guarantee of validity, since it officially authenticates the signatures, the legality, and the legitimacy of the documents released by any distance education university such as Bircham International University. More info...
Credit Evaluation Services
BIU graduates may get evaluation academic credits reports from several institutions. The requirements of each credential evaluation service may vary depending on the degree program, specialization and graduate resume on each occasion. BIU can not guarantee credit or degree validation in all instances. BIU does not intermediate in these procedures. More info...
Graduation Documents
Graduation documents are always issued in English, and will be updated according to the latest regulations or formats adopted by Bircham International University. These documents may be issued and legalized from the USA (Delaware) or Europe (Spain). If you do not express any preference, the documents will be issued from Spain.

Bircham International University issues the following graduation documents:

1. Diploma: It shows the full graduate name, degree program, date, issuing country and signature of the Dean of the Faculty, the President and Registrar. It does not specify any distance learning information.

2. Transcript. It shows all of the credits accounted towards the degree, including the credits transferred from previous education, and the corresponding grades. It includes the Diploma Supplement information, as required by European Higher Education guidelines.

3. Translation: One document translation that includes the main information extracted from the diploma and the transcript, and ID picture. It may be issued in several languages.

4. Evaluation Reports. They show the evaluation details of all the academic work submitted to BIU: reports, project or thesis.

5. Transcript Attachment: Provides a detailed description of the courses and the credits listed in the Transcript. It may be issued in several languages.

Bircham International University provides much more than a diploma. The graduation set documents provide a comprehensive report of your academic achievements, credits earned and transferred, course descriptions, program textbooks, etc... The Graduation set documents do prove the extent and depth of your program of study at BIU. More info...
Professional Practice
Each profession develops its own entry requirements. Potential BIU students are advised to check, prior to enrollment, whether a Bircham International University distance learning degree is accepted at the professional practice they are seeking. Requirements for a particular profession vary widely among provinces, states, or countries. Some jobs require degrees recognized solely by a Ministry of Education; while others accept a diploma duly legalized or endorsed by a professional association.

Professional practice depends on a student experience and career and not only on the university degree. In other words, a student may qualify for a particular practice while others may not, despite holding the same degree from the same distance learning university.

Bircham International University graduates may join many professional associations. Membership requirements for each association may vary depending on the degree program, specialization and graduate resume en each occasion. BIU can not guarantee membership in all instances. BIU does not intermediate in these procedures. Bircham International University provides a list of available memberships and professional references from each faculty where some BIU graduates may belong. Contact directly the ones you select. More info...
To order any graduate services you must fill out and send the Graduate Services Order Form.
Click to Download - Graduate Services
Graduation Ceremony
Bircham International University has organized the means to celebrate this special moment: the graduation! More info...
Bircham International University students may start and finish their distance learning degree programs any date along the year, so there is never a good time and a good place for everybody to celebrate a big graduation ceremony.

Individual Graduation Picture
The BIU office has a set of graduation caps and gowns available for any graduate wishing to take an individual graduation picture. The student must schedule an appointment for this picture taking. There is no charge for this picture set up. If you wish, we may publish your pictures on the BIU web.

Graduation Ceremony
BIU organizes several graduation ceremonies every year around the world. All BIU graduates who wish to receive their diploma at an official graduation ceremony are welcome to attend. BIU does not provide graduation rings or any other regalia. The dates, cost and details of each graduation event will be confirmed in due time. More info...
Virtual Graduation
Some people are finding difficulties to attend graduation ceremonies and/or travel to the BIU offices. Consequently, we thought of a way to provide you with unforgettable graduation pictures from your home or office.

How? Very easy. More info...
1. Just get the BIU flags and logo background picture by dragging it from our web. You may find this photo at this link. If you want this picture with a HD resolution, you may ask BIU staff to deliver it by email.

2. Dress with a formal attire or with the corresponding degree cap and gown, if you want to portrait a perfect moment. The BIU web provides a visual example of the different graduation options: Professor Doctor - Doctor Ph.D. Master & Bacherlor's degree.
You may get a set of a cap and gown from a US provider. Note that shipping and customs taxes may be more expensive than the cap and gown itself for shipments outside the United States. If that is the case, you should look for option within your country. You may even rent it for a few hours for the picture, or just use a formal attire.

3. Take some good pictures with your formal attire or cap and gown in front of a simple or uniform background (a white wall, simple curtains, etc...). Medium and close up shots work better. Then, select the pictures you like the most.

4. Use any remove background application to substitute your original photo background with the BIU flags and logo picture. Here is one that works online and is free.
https://www.remove.bg
(Drag the your picture to the web clean the background, then click edit on the top right corner of the picture and select the BIU background)

Then you are all set!!!
You now have a BIU graduation picture.
Note that applications like Zoom and Skype provide utilities to change the background in order to take pictures or make a video. There are other applications with similar utilities. Feel free to use your own. We just want to provide a nice BIU institutional background and samples of our graduation attire in case you can not attend our ceremonies.

Do not forget to share your virtual graduation picture or video with us. If you send your testimony and your picture by email, then we will publish it on the BIU web. More info...
Diploma Recognition
Bircham International University
Diploma recognition options facilitate acceptance by companies and other educational institutions.

BIU OFFICES - Distance Learning University - Contact ...
If you have any further questions, please let us know. :)