Opinion & Review
Distance degree programs for Adults & Professionals:
Bachelor's Degree, Master's Degree, Doctor Ph.D. Degree Online via distance learning.
Bircham International University
Opinion & Review
Since its foundation, Bircham International University has been dealing with reviews and opinion because the unique characteristics of our distance learning degree programs often generate confusion to those who do not take a few minutes to verify further. More info...
Some website may question the integrity or validity of Bircham International University. This is just a matter of opinion.

Probably, any review or opinion about Bircham International University emanates from the a good intention to protect consumers. We strongly believe in the freedom of expression, but not in the publication of any misleading and erroneous information about our distance learning university. Let us know of any improper opinion that involves BIU.

Over the years, Bircham International University has addressed any improper reviews and opinion. BIU provided evidence demonstrating our legitimacy, consumer protection guarantees, and academic quality. Many of those references have changed their opinion about our distance learning university; while others still remained skeptical.

At Bircham International University, we believe that the success of a distance learning degree program resides in two factors: First, a personalized syllabi designed to meet individual students' aspirations and educational needs, and second, an efficient evaluation of the distance learning learning process through the assessment of home-written reports and/or theses. Both factors do not fit within the regular criteria and norms set by a Ministry of Education, which explains why BIU distance learning degrees are considered non-formal, and are not so officially recognized.

Today, a government regulated formal educational institution cannot offer a distance learning degree program that presents the flexibility, efficiency, affordability and pedagogical innovation offered by the Bircham International University distance learning higher education. More info...

Is BIU an authorized distance learning degree provider?
Yes, but Bircham International University degrees are exempt from recognition by the Spain Ministry of Education. Independent higher education is authorized by the Ministry of Economy, and supervised by the Ministry of Consumer Affairs.
More info...

Bircham International University ranking may be considered within the top ten in regards to educational quality according to the wide list of references supporting it, and the guarantees granted by its dual legal status, which merge the best of the two leading higher education systems of the world: Europe and the USA. More info...
EU Adult Education - Grundtvig Program (OAPEE)
EU Curaçao Ministry of Education (Netherlands)
EU ECTS - European Credit Transfer and Accumulation System
EU EQF - European Qualifications Framework
EU VIP - Validation of Informal Learning
Spain Embassy English (USA)
US-Spain Chamber of Commerce
USA Accreditation References
USA Legal Compliance
USA Non Profit 501c3 Status
USA State of Delaware
More info...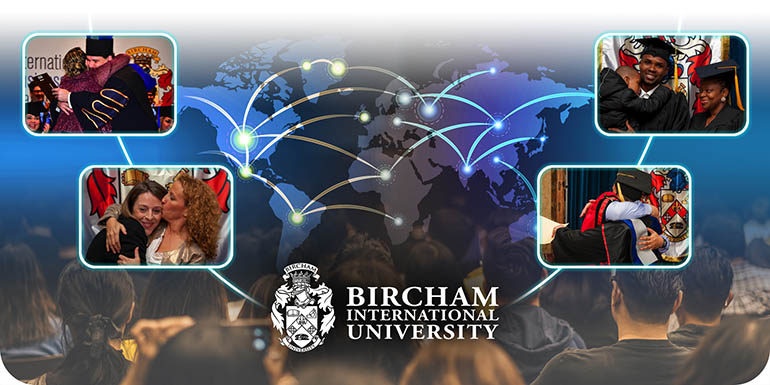 At Bircham International University, we do not want you to simply enroll but to graduate, to earn your deserved distance learning degree program, and to achieve your goals.

We are not in a hurry, are you?
Bircham International University
Opinion & Review
It is exceptional that any company or receiving institution will accept a distance learning degree by merely showing the paper diploma and other documents. How can anyone make sure that those papers were not made up? For this reason, companies and organizations all over request different means to make sure about the validity of the degrees presented to them.

Bircham International University offers several validation options from independent third party organizations as well as the standard international legalization procedures, but such options do have a costs and may take some time. Consequently BIU also provides a free web listing for the verification of any student or graduate's good standing status at BIU. This web reference is often enough for many receiving institutions.

Some American institutions may be reluctant to accept transfer credits from a "non-formal" (distance learning) university which is not accredited by a US CHEA recognized body. In some cases, partial transfer credits are accepted. Note that accreditation (including US CHEA) does not automatically provide, nor guarantee, acceptance of any distance learning degree with other educational institutions or hiring employers.

No educational institution can guarantee the acceptance of their degrees. Acceptance of higher education degrees is always entirely at the discretion of each receiving institution or employer. It also differs depending on their own policy, and the country where they are based. More info...
Consumer Protection
European consumer protection seals, plus membership into other relevant distance learning organizations worldwide, provide a solid international guarantee to all Bircham International University students in Europe, and the rest of the world. More info...

Traditional university is still reluctant towards the complete acceptance of distance learning higher education. The effectiveness of distance learning for adults is questioned in regards to genuine cost saving, after taking into account the investment in infrastructure, the difficulty involved in adapting or creating a course for delivery through distance education, and the need to provide students with university functions, such as registration, advising, and access to library materials. Questions also raise the quality of the online educational experience, the issue of adult higher education recognition, and also point out to the invasion of online distance learning universities called "diploma mills", fraudulent institutions that offer worthless distance learning higher education degrees, many requiring little or no coursework, in exchange for money.

Today, only irresponsible consumers fall under the easy treats offered by diploma mills. Technology has proven to provide genuine cost savings for full distance learning universities, which is reflected in an affordable tuition with an excellent cost/quality ratio. Nowadays, the effectiveness of distance learning for adults, in regards to learning outcomes and demonstrated professional skills, is out of question. More info...
Online Trust Seal - Sello de Confianza Online
Spain Ministry of Consumer Affairs (INC)
More info...
Refund Policy
Bircham International University provides a very much beneficial refund policy for the student: 100% tuition refund within 15 days from the program start; 80% tuition refund within 90 days; and 50% tuition refund within a whole year from the program start. This policy guarantees no financial risk to anyone willing to try the BIU's innovative distance learning higher education for adult professionals. More info...
Bircham International University
Opinion & Review
A person's professional reputation depends largely on his achievements and competence. It also relies on the know-how acquired through a good education, which is finally represented by the corresponding diploma. We should not forget that a company hires problem solving skills and not just a degree. More info...

John Bear, a well known expert in distance learning universities for adults, stated: "For many years, I have written that, in the process of choosing any school, the prospective student should determine, as best he or she can, that their credential will meet both their current and predictable future needs. Based on the testimonials offered by Bircham, it seems clear that there are many satisfied people with the their credential." Bircham International University ranking may be considered within the top ten according to the opinion of many of its graduates. More info...
How to ensure that BIU is a good option?
Of course it is, but common sense comes first.
Review Bircham International University information and talk to the BIU staff. A questionable institution would not offer consumer protection guarantees, nor clear information and evidence about its legitimacy and recognition, a sound academic board, tangible offices, an admission process, detailed academic programs, etc… 

Some opinion or reviews may generate uneasiness, but there is nothing to worry about. There will always be some controversy about our innovative and effective approach to distance learning higher education. Any pioneering initiative that breaks the pre-established schemes and traditional regulations is skeptically reviewed. Distance learning higher education is not an exception. Since 1992, thousands of graduates do attest our success.

A final advice. Motivation is the key to your success pursuing a distance learning degree program. If you remain skeptical about Bircham International University, we suggest that you wait and watch BIU progress. Time has been our ally for a quarter of a century, and it is the best way to prove the institutional integrity and academic quality of our distance learning higher education. More info...
A distance learning university is the perfect solution for many people.

Are you one of them?

BIU OFFICES - Distance Learning University - Contact ...
If you have any further questions, please let us know. :)