Distance Learning University for Adults & Professionals.
Online Learning - Adult Degree Programs.
Bircham International University
Tutoring and advice
All questions related to the presentation of written assignments, doubts concerning textbook comprehension, knowledge level, etc., as well as any administrative procedure should be addressed to your Bircham International University Office. This latter will coordinate taking care of your questions with the appropriate member of the instructor's team. More info...

BIU OFFICES - Distance Learning Higher Education - Contact ...
If you have any further questions, please let us know. :)
Tutoring and advice
Distance Learning University for Adults & Professionals
Bircham International University uses an international network of instructors, plus a worldwide interrelation with other educational institutions, to support all the academic needs of any program of study. Members of the BIU academic network are also busy qualified professionals located in different countries. The BIU office is the most efficient way to coordinate interaction with this complex academic network, and to find out the best way to deal with the student request.

Bircham International University has developed several ways to provide the student with academic support and advice during home study learning process.


GENERAL ADVICE
Answer time: Immediate to 24 hours (Office hours)
Questions concerning the completion of the home study assignments (reports, project, or thesis), work format and presentation, as well as any concerns about the administrative procedures should be addressed by the staff from the BIU office.


INSTRUCTOR INTERACTION
Time to schedule an interaction: 1 to 7 days.
The BIU office may coordinate a telephone interview with an academic advisor to guide the student on specific issues. The assigned instructor and the student may also interact by email. Any interaction will be monitored by the BIU office to ensure proper and timely response. Academic advisors may change along the progress of the program of study, due to their availability or depending on the question's subject. Note that BIU instructors are not just academically qualified but they must be sound and updated professionals as well. They collaborate with BIU on a per task assignment basis, so their availability may not be immediate.


SUPPORT BOOKS
Time for support text assignation: 1 to 3 weeks.
Sometimes the questions posed by the student, in regard to the comprehension of the assigned textbooks, may reveal a knowledge gap that may not be filled with an instructor's interaction. In such cases, the BIU Faculty will assign some home study support textbooks to assist the student in filling up the knowledge gap. No reports are required on the texts assigned for support purposes.


RESEARCH MENTORING
Time for research mentoring: Variable, depending on each case.
The instructions on how to elaborate a research work have been summarized to meet different academia criteria. For example, BIU research format allows some students to use footnotes, others may just add a final appendix containing research references, while some may decide not to provide notes, but all of them must display a proper referenced bibliography. Bircham International University allows certain format freedom. The student may propose the theme of the research, subject to BIU approval; or may request an interview with an academic advisor to focus the research ideas. BIU may also provide some home study support textbooks to ensure a sound academic foundation for the proposed research.


FEEDBACK & IMPROVEMENT
Time for evaluation results (grades): 1 to 3 weeks from reception time.
BIU instructors will provide feedback comments about any academic work (reports, project or thesis) submitted for evaluation. The instructor is obligated to provide relevant and helpful improvement comments for any work with a final grade lower than 3.0 (70%). The student may raise the academic work grade by resubmitting the same work considering the improvement comments pinpointed by the teacher.


EMPHASIS & SPECIFIC CONTENT
Time for specific content approval: 1 to 2 weeks.
BIU diplomas display one major of study, and also may show one optional minor (only Bachelor's, Master's & Ph.D. degrees). The student may propose the inclusion of some subjects or specific research work, apart from the major of study courses, in the transcript. These extra academic credits will justify adding the minor to the degree program. Such proposal must be formally addressed in writing to the BIU office, and is always subject to approval from the Academic Board.


PROGRAM REASSIGNMENT
Time for program reassignment: 1 to 3 weeks.
On few occasions, the assigned home study program may present some level of inconsistency. In other words, the suggested textbooks assignment could be too easy or too hard for the student. This unusual situation occurs when there is some lack of information, or a résumé misinterpretation during the admission process. In this case, Bircham International University will assume the responsibility, and the cost, of reviewing the program and reassigning a whole new set of suggested textbooks, but first the student must provide accurate information of his expected learning goals and precise the deficiencies of the initial assignment. BIU may also request further and detailed verification of the student background before producing the new assignment. The Academic Board is the only authority that may modify, add, or delete any bibliography and/or assignments.


OTHER LANGUAGES - FOR NON NATIVE ENGLISH
Often, reading skills in a foreign language are easier than writing skills; so, upon request and approval, you may study the BIU program with English textbooks, and write the required academic work (reports, project, or thesis) in other language. Translating the books is not an option. Whenever possible, BIU may search for book equivalents in your preferred language, provided that the new books meet the contents and quality of the ones originally assigned. BIU does not test language levels; it is the responsibility of the student to assess his/her language level to ensure a good comprehension of the books assigned.
A good education should teach HOW to think, rather than WHAT to think. More info...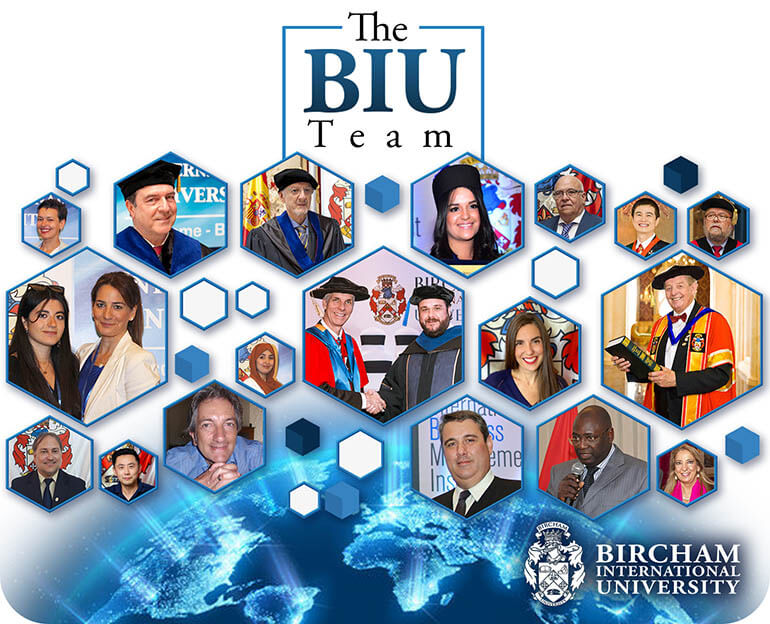 At Bircham International University, we do not want you to simply enroll but to graduate, to earn your deserved distance learning degree program, and to achieve your goals. More info...
BIU OFFICES - Distance Learning University - Contact ...
If you have any further questions, please let us know. :)